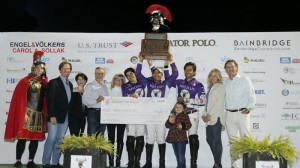 WELLINGTON, Florida-April 8, 2017-Team Spiculus rode to a rugged win in the 2017 final of 2017 Gladiator Polo™ presented by U.S. Polo Assn. tournament Saturday night, defeating Team Spartacus 17-10. The seven-game series took place at the "Coliseum," otherwise known as Equestrian Village, and began with four teams.
The Spiculus line-up of Sebastian Merlos (arena handicap 9 goals), Mariano Obregon (7) and Pelon Escapite (7) dominated play for the majority of the game. The score was tied at 3 going into the third chukker, but Spiculus stormed ahead to a 10-5 lead at halftime. The gap continued to widen, standing at a 7-goal deficit for Spartacus (17-10) when the final horn sounded.
"I am almost speechless," said Missy Sullivan of Don Graves and Marshall & Sterling Insurance, Equisport Division, who sponsored Spiculus. "Mark Bellissimo, with his endless vision and what he has done for the sport, never ceases to amaze me."
The play of the day happened early in the game, when Merlos launched the ball three-quarters the length of the arena for a 2-point goal. Merlos came through again with two 2-pointers in the third chukker. Felipe Viana, playing for Spartacus, also contributed three 2-pointers.